I've written a little about my experiences with musical
instruments
, but I haven't described how I ended up with my current piano. It's a tale that combines money, real estate, and a bit of music.
Pianos, so familiar to most people, are complex combinations of machine and furniture, stringed instrument and percussion. I never knew much about them or thought much about them. The piano I first remember playing was a small baby grand that my parents bought at an auction house in DC when I was around 4 years old. They had seen it in the window, and asked a friend of theirs to bid on it for them; they paid around $200. It was a "Kimmel,"* one of the many off-brands that used to be produced in the United States, back when every middle-class family had, or aspired to have, a piano in the house. I always thought it was fine, though it probably was not; I rarely played any other pianos except for my teacher's studio upright (she had a grand upstairs in her house, but in the many years I took lessons from her I never went up there, so never saw it, just heard about it).
We had a lot of trouble keeping the Kimmel in tune. Our house had central forced-air heating, so it was dry in the winter and humid in the summer. The pin block was probably shot; the pins were apparently loose. I remember one tuner advising us to keep a bowl of water inside the lid, on the plate, to keep the block more humidified so the pins wouldn't slip so much. It didn't work.
I eventually inherited that piano and moved it into an apartment I had in Baltimore the year after I finished working on my doctorate and was working as a court reporter. It was in a rather luxurious older high-rise building with a doorman and garage parking, and my apartment was a spacious one-bedroom on the 11th floor. I was renting from the owner, who had bought another apartment in the building. The piano looked great in the large living room. I bought a tuning hammer so I could bring it into something approaching correct pitch, which I had to do every time I played it.
I didn't have the usual apartment problems with noisy neighbors or complaints about my practicing. The walls were thick and the place was generally quiet, except that my two windows faced on St. Paul Street, and the sound of traffic (including some very loud sirens heading to Mercy Hospital just down the street) was a constant in the apartment.
But the apartment wasn't entirely satisfactory, either. There weren't any decent grocery stores nearby, so I had to drive to the suburbs to do my shopping. Also, although the area was bustling during the day, it was almost deserted at night, and I was reluctant to go out unless I took my car, so I ended up staying home watching TV a lot. There was a real-estate lull going on at the time, and interest rates were lower. When I started thinking about maybe finding a different place to live, I got the real-estate itch after I realized that it was possible to buy something appropriate for the same cost as renting.
So that spring, I started looking at condos, and then at houses. In the midst of this, I received a flier in the mail for one of those
"university piano sales"
: A piano store advertises a huge sale at such-and-such a location where they will be selling pianos used by a school or concert hall or theater at a deep discount and, oh yeah, some new pianos. I didn't know then that this is a come-on to get
suckers
customers in the door. They usually have a few beat-up pianos available, but then the salesperson steers you to the new ones so he or she can make a bigger commission.
I ended up in the hands of a slick-talking piano salesman who sold me a new Baldwin Hamilton studio piano. Whether the price was fair or not, I have no way of knowing. Because I still hadn't bought a new place to live, although I bought the piano in April, I didn't take delivery until June (much to the salesman's dismay -- but there was nothing he could do about it).
After much searching, I decided to buy a house in the DC suburbs. It was a little Cape Cod at the end of a dead-end street. It was very quiet and peaceful, and I felt safe there. The price, in retrospect, seems ridiculously low.
Before I moved, I put a note on my apartment bulletin board, advertising the Kimmel. The only person who called was my landlord! He didn't play the piano but liked the way it looked. We worked out a deal of slightly reduced rent for a few months, and in exchange, I left the piano in the apartment.
The living room of my new house, though small, had a good spot for my new piano. I thought it sounded wonderful, and I played on it happily, though I didn't play as much as I'd imagined I would. Some pianist friends who came over were not that impressed with the piano, though they tried to be polite.
When my husband and I bought the house we have now, one of the attractions was that it has a living room large enough for a piano. But after we moved in, I found that it was difficult to practice here because the piano was right in the center of the house. Also, it sounded brash and bright, with the sound echoing around in that big space. What with one thing and another, I gave up and stopped playing the piano entirely.
Two events got me back into it. The first was that we did a remodeling project, turning the back part of our huge tandem garage into a room for me to use for practicing (at the time, I was deeply into the viola). The room turned out well. It has windows facing south and west, so it's generally sunny during the day. I painted it a soft yellow, and we had cork flooring installed and bought a deep red Persian-style rug for the floor. The second impetus for my return to the piano was when some friends offered me their old family piano. I thought it might be nice to have a piano down there just to mess around on, so I took it. It was another Baldwin, a 1920s 5-foot baby grand. Here's what it looked like in situ: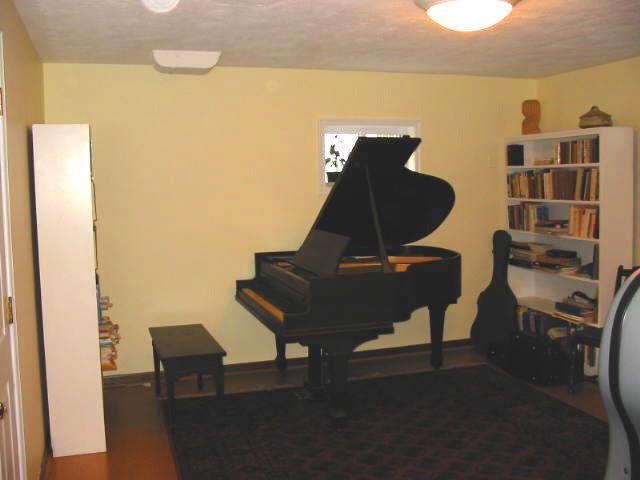 Having the piano there enabled me to play it any time I wanted to, and I found myself starting to practice again. It sounded horrible, though, and the action was rough. So I started prowling the Internet, searching for information about pianos, and as many before me have done, stumbled on
Piano World
.
My first thought was of having the Baldwin worked on -- new strings, hammers, and all the rest -- but the fact is that it was never a fine piano. Though my friends had always imagined it was a good instrument (it had been purchased new by their grandmother), in reality the small size is simply not compatible with a great tone, and as a practical matter, laying out the money necessary to fix up such a piano, probably around $4,000, is generally not a good investment. The thing is, you can't tell what it's going to sound like until it's done, but it's most likely going to be disappointing when you're starting with a nonprime piano like this one. Also, the poor thing had not been treated well before it came to our house. It had been kept in a room with no humidity control for many years, and there were some cracks in the soundboard that may or may not have been fatal. The more I studied the rebuilding option, the less worthwhile it seemed.
Then, also as many others do, I looked for a used piano that would satisfy me, a Yamaha or Kawai or something similar. I made the rounds of all the local stores, playing new and used, expensive and not. I visited
Piano Row in New York
and checked out all kinds of pianos. I kept coming back to the thought that although it was possible to buy an okay used piano for, say, $10,000, that is still a lot of money for something that wasn't really what I wanted. Just as I had done the calculations and decided it was a better investment to buy a house than a condo, I decided it was better to buy the nicest piano I could find that I could afford rather than the cheapest. (To read about how I could afford to buy a better piano, see
this post
.)
It was on Piano World that I read some of the buzz about
Estonia pianos
. Estonia, a small Baltic country, had a piano factory that was founded in 1893 and produced nice pianos. When the Soviets took over the government, they took over the piano factory as well, and quality declined. After the fall of the Berlin Wall, Estonia regained its independence, and the factory workers privatized Estonia Piano in 1993. A young Estonian pianist named Indrek Laul, a Juilliard graduate, started buying out the business in 1994 with the aim of creating a world-class piano. Within 10 years, there began to be much discussion in piano circles and even elsewhere about these surprisingly good pianos. For example, in 2003, an article was published in
Forbes
magazine:
A Fine Way to Treat . . . an Estonia
I was intrigued. When I finally was able to try an Estonia, I was impressed. The touch was especially good, and the quality of sound was almost as good as the best Steinway B I had played (~$70,000 -- no way!). There were other pianos that I liked, but they were much more expensive and only marginally better, or perhaps just different. I made a deal with a local dealer, and in July of 2006, my Estonia 190** was delivered.
I've been spoiled, practicing on this piano. It responds so well. I wish I had a bigger room for it, but the current setup more than meets my needs. I've had people come over, say they've never heard of Estonia, rattle off a few chords, pronounce it "bright," and leave obviously thinking I bought some odd piece of junk. But I'm the one who plays it every day, so it's my opinion that counts. My playing has improved tremendously since I acquired this piano; I'm able to produce many more nuances of tone and dynamics than on either of the Baldwins, and it's simply more pleasant to play on.
The fate of the old pianos? The Hamilton is still in the living room. I have it tuned once a year or so and play it once in a while. It's not a bad piano. It's among the last pianos that Baldwin made as a company in the United States before they were bought out; the new owners just slap the Baldwin name onto pianos made in Asia, and I don't know what they are like. It was designed to be a basic, sturdy workhorse (this is the model that used to be ubiquitous in practice rooms all over the country), and the craftsmanship with which it was made is high.
The touch and tone that I once thought were fine now feel loose and a bit clangy, but I've found that is characteristic of every Baldwin I've played. I've thought of selling it, but the few thousand dollars I'd make would not change my life, and it's kind of nice having a piano with such a different touch available -- I can try out pieces on it to see how secure they are without the support of the Estonia, and it's interesting.
As for the baby grand, I tried to give it away, but I couldn't find a suitable recipient. Our friends didn't want it back. I advertised on Freecycle and our neighborhood listserv. I was perhaps too honest about its problems, or maybe people just don't want to be bothered with such a thing these days. In any case, in the end I had it taken away by the movers who brought the Estonia, and I don't know what happened to it after that. Perhaps it was taken to a junkyard, perhaps it was dismantled for parts, perhaps it was turned into a minibar, or perhaps someone took it home and is playing on it right now.
*I wouldn't bother Googling this; there probably is nothing about it anywhere, and I've never seen another one. Maybe ours was the only one!
**190 refers to the length of the piano in centimeters, equal to 6' 3" in U.S. measurements. This is considered a "parlor grand" -- I guess referring to the days when people had parlors that were bigger than today's living rooms. Concert grands are generally either 9 or 12 feet long.